Since 1939
We build tanks.
Above-ground tank specialists
Since 1939, Turner Tanks has focused on one thing: We build high-quality, small, above-ground, steel storage tanks. From 25 gallons to 4,000 gallons, we build tanks for industrial, agricultural, automotive, commercial and residential use. Turner Tanks are manufactured in Goldsboro, NC, and sold through Petroleum Equipment Distributors from New England to Texas. Click here to find the distributor nearest you.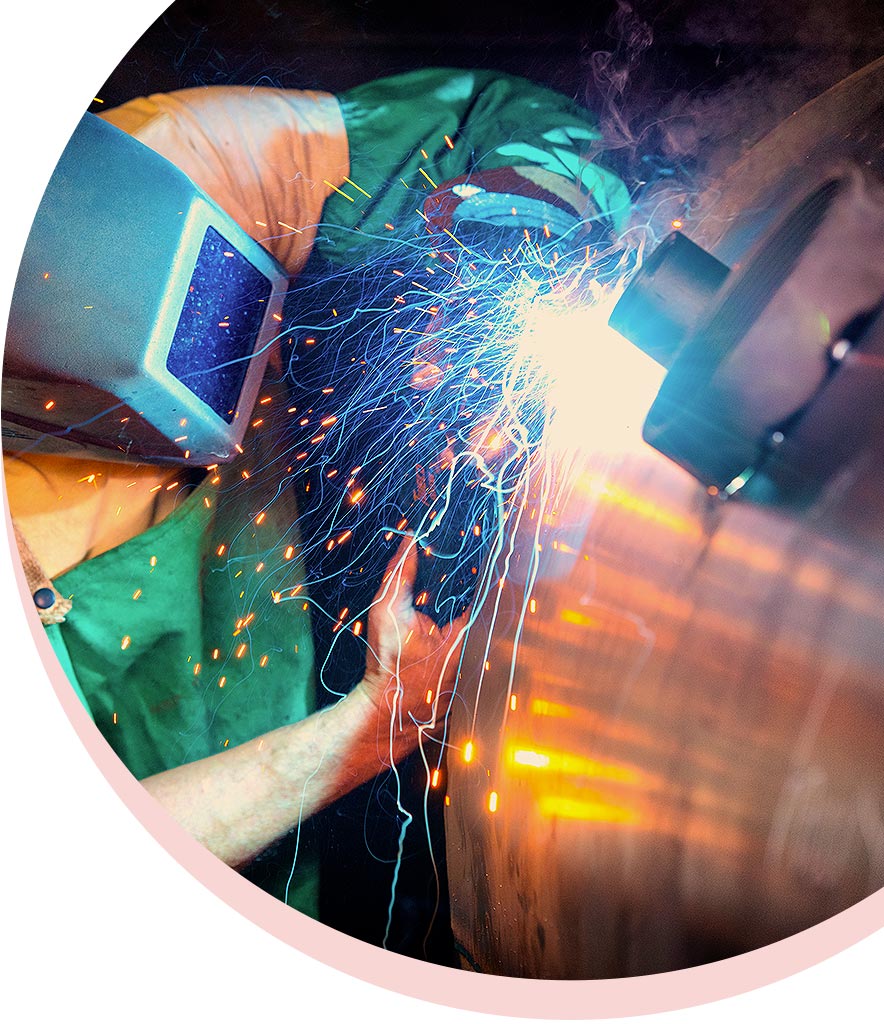 Construction
For over 80 years, Turner has served contractors large and small in the construction of highways, bridges, buildings and even military installations here in North Carolina. On-site Turner heavy-duty, double-wall skid tanks keep cranes, graders and bulldozers on the go. Dependability you can count on 24/7.
Manufacturing
Factory locations require safe, reliable storage of numerous products needed to keep machine tools operating around the clock. Enter Turner's rugged pallet tank series. Confidently take the product to the machine in capacities of 260, 275, 380, 500 and 1,000 gallons.
Automotive
Long a leading maker of work bench tanks, Turner offers numerous other styles of storage tanks for engine oils, gear oils and other fresh oils as well as waste fluids. Tanks start at 150 gallons. Need something bigger? Try our Pit series of tanks up to 2,000 gallons, that are very popular in fast lube centers and new car dealerships.
Agricultural
Turner Tanks, located in farming country, has provided products for the storage and refueling of motor fuels in tractors and combines since our founding in 1939. Skid, Saddle and Stout tanks can be found in farming operations throughout America.
Residential
Turner still offers a complete line of Basement Tanks and Tank Stands for heating oil storage. Other styles very popular for heating oil storage include Utility and Horizontal.
Commercial
Our network of distributors is available every day to assist small businesses and large corporations in selecting the tanks that will best serve the needs of their customers and keep their service vehicles and heavy equipment running.       
Stout Tanks – ST/STDW
Our most popular series
The dictionary defines stout as being able to withstand considerable stress or hardship, and that is what our customers get with our ST models ranging from 150 to 2,000 gallons. We put some extra effort into making stout "feet." First, the thick steel feet are formed and then welded to mounting pads, which in turn are seal-welded to the tank. All feet have a single, large hole for anchoring the tanks to hard surfaces when required. Available in single or double-wall models.
Typical Uses:
Motor Fuels
Lubricants
Waste Oils
Standard Specifications
Drawings & Gauge Charts
Options & Accessories
Standard Specifications
UL-142 Listed, 12 gauge carbon steel and heavier.
An above-ground tank that offers the economy of the Utility series with the convenience of an elevated Saddle tank.
Legs are full seal welded. No welding directly on tank.
Sealed with Threaded Steel Plugs below liquid level.
Standard Turner Openings: four 2″ openings and one emergency vent (single wall), and one 3/4″ outlet.
Our tanks undergo at least two testing procedures and are carefully inspected.
Sturdy 1/4″ plate "feet" elevate the tank 3″ above grade.
Finished with a high-quality Gloss Tank Red (GTR) primer.
Drawings & Gauge Charts
Single-Wall Stout
Model
Gallons
Gauge
Weight (lbs)
Dimensions
Gauge Chart
ST-150-12
153
12
203
30″ Dia. x 50″ L
ST-270-12
273
12
289
36″ Dia. x 62″ L
ST-525-12
532
12
455
46″ Dia. x 74″ L
ST-1000-10
1036
10
992
46″ Dia. x 144″ L
ST-1500-7
1036
10
992
46″ Dia. x 108″ L
ST-2000-7
1036
7
992
64″ Dia. x 144″ L
Double-Wall Stout
Model
Gallons
Gauge
Weight (lbs)
Dimensions
Gauge Chart
STDW-150-12
153
12
426
30″ Dia. x 50″ L
STDW-270-12
273
12
600
36″ Dia. x 62″ L
STDW-525-12
532
12
961
46″ Dia. x 74″ L
STDW-1000-10
1036
10
1960
46″ Dia. x 144″ L
STDW-2000-7
1036
7
992
64″ Dia. x 144″ L
Options & Accessories
Turner Tanks are available with basic accessories already installed, including the items shown on this page. Pumps and other accessories are usually provided by the distributor. Feel free to use the form for questions regarding your specific needs.
with questions about any of our tank models.​
Testimonials
What Our Distributors Say
Taylor Pump and lift has been working with Turner Tanks for more than 40 years. We are happy to say that all our tank needs are well taken care of by Turner Tanks. The quality of your product is second to none with the customer service to back it up! Thanks for all the business over the 40 years and we look forward for much more to come.
Mickey Wofford
Taylor Pump & Lift, Concord, NC
We have a 20+ year relationship with Turner Tanks. They make a consistent, quality product and have been Petromen's #1 choice for manufacturing small tanks our company offers since we started.
Brian N. Odom
President - Petromen's Inc, Goldsboro, NC